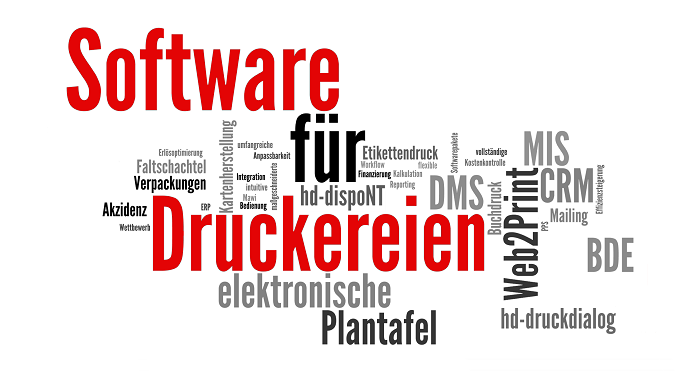 MIS / ERP
The powerful MIS-Software for modern printing companies
The hd-druckdialog is developed to optimize your internal business processes by being adjustable to match your exact demands.
The hd-druckdialog is designed to be flexible and open. That flexibility allows for optimal modeling of your work-processes, from calculation, production planning and material management to production data acquisition. The hd-druckdialog's modules integrate seamlessly and connect all control processes fast and secure.
Every improvement to information-workflow adds to your company's success. The consistent usage of an integrated software in all areas of company improves on your workflow and reduces overall costs.
Production Planning
The production planning tool hd-dispoNT increases the efficiency of your production planning and control, optimizes the machine utilization and gives you an overview of the current status of your machines and running orders. Changes are instantly visible, which allows you to react immediately.
Data from order calculation and material management is automatically transferred for use in the planning tool.
Finance
Together with our partner the BFL Leasing GmbH, we provide a suited finance for your company.

Customer Relationship Management / CRM
The rubecon.CRM provides coordination and control over customer activity in sales. The focus is placed on planning and tracing of appointments and the related tasks.
The full integration into the already existing cockpit architecture allows the rubecon.CRM to be highly flexible, configurable and user-friendly.
Office-staff/Sales-agent cockpit
The office-staff/sales-agent cockpit is a cockpit, that is specially adjusted for the needs of your in-house office-staff as well as your sales-agents.